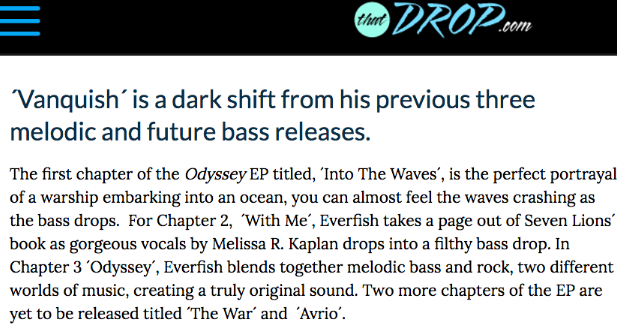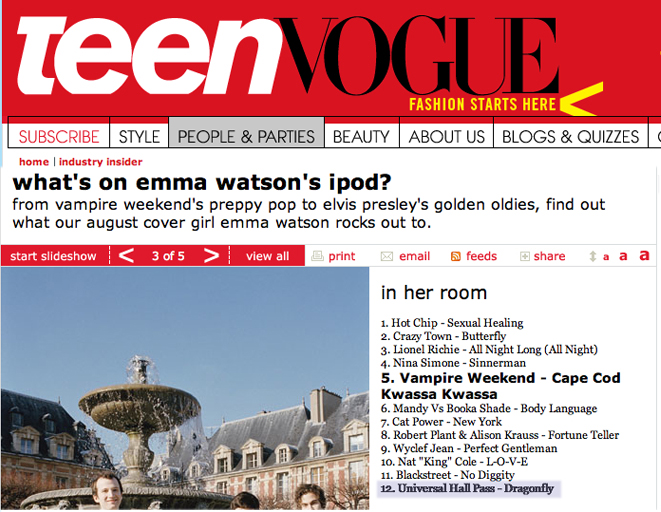 Thank You Emma ♥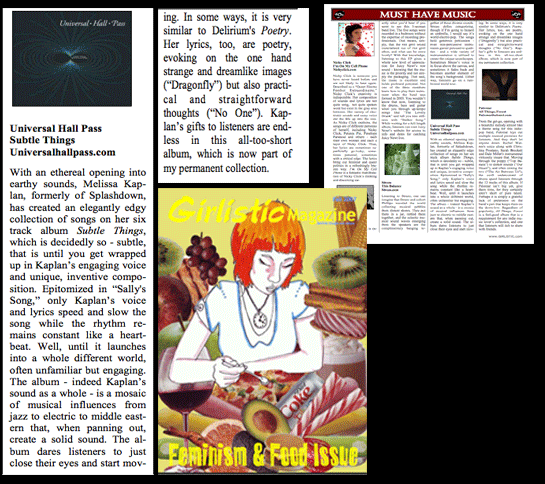 Universal Hall Pass "Mercury" (Sneaky) By Nina Hichak - Transformeronline.com
An extraordinary talent soaked in genre-defying intensity. Melissa Kaplan, former member of the Boston band Splashdown, has returned with her latest project, Universal Hall Pass. Mercury, on her own Sneaky Records, combines a variety of different elements, making it nearly impossible to pin down the band's sound to one specific genre. The album starts off with "Tutelary Genius," an extremely infectious rock hit preparing the listener for what's in store. It progresses from there to include elements of jazz, new wave, electronica, synth hooks, the occasional trumpet solo, and even funk. What probably surprised me the most was "Katrina Josephina," a track which resembles a folk tale and clearly shows off Melissa's wide tast in music. Claiming to be a fan of world music - as well as listing bands such as Radiohead, Ella Fitzgerald, and Miles Davis as influences - this record demonstrates how the boundaries between genres can be crossed and successfully combined. Mercury is one unexpected event after the next, although never too surprising to destroy the listener's concentration and ruin his/her view of the album. Melissa's extraordinary yet dramatic voice seems to align perfectly with her lyrics, which reveal hints of philosophical and sociological thoughts. Wether you choose to describe Universal Hall Pass as electronic rock, or a modern combination of jazz and blues, the amount of intensity in Mercury remains the same.
PS: Not only can you find Melissa's voice on Universal Hall Pass, but she has also worked for many television, movie, and video game programs. Surely a talent not to be missed.
Merury Review By Katrina Martin Davenport - Sponiczine.com
Mercury begins with a pop confection, "Tutelary Genius," which is reminiscent of the New Pornographers. It prominently features Melissa Kaplan's sweet voice, as well as '60s superhero anthem guitars, and biting, witty lyrics that belie the honey dripping around its edges. From there the record evolves into "Dragonfly," a funky, dreamy track with groovy beats and jazzy trumpets that would be the perfect 2005 summer song. The rest of the record is a helluva fun ride, one that will be blasted from the open windows of my car often. It is impossible to pin down just what genre Universal Hall Pass occupies, Kaplan's background is in trance and electronica, and although there are hints of that on this record, it's not the dominant feature. Kaplan lists such diverse artists as Squarepusher, Ella Fitzgerald, Peter Gabriel, Radiohead and Miles Davis as influences. She also dabbles in Bulgarian and Middle Eastern music. When all of that comes toghther, you get music that draws comparisons to Rufus Wainwright's over-the-top classical soundscapes and Portishead's creepy/funky beats. One can also find Bjork;s otherworldy yet beguiling vocals and Fiona Apple's bluesy, seductive inflection in Kaplan's voice. The folk tale a cappella track "Katrinah Josephina" could have been a B-side to the Nightmare Before Christmas soundtrack: Although it's not about ghosts and ghouls, its beautifully haunting, and Kaplan's voice is reminiscent of Danny Elfman as Jack Skellington. And then there's the track, "Six Step Dragon," which explores Kaplan's interest in world music, and sounds like something one would hear at a Chinese dance club. Both are unusual and totally cool. The only miss-step in the album is "Special Agent," which sounds a bit too much like something Top 40. Otherwise, the CD's a gem, one that sparkled brightly in my pile of undiscovered indie releases.
Universal Hall Pass - Mercury By Ryan Michel Painter - Slugmag.com/article.php?id=343
"...seeing as how the general public loves a witty woman with a fantastic voice and a sense of pop music combined with a passion for experimentation. You have all that in Melissa and her Universal Hall Pass, Mercury liberally pulls from jazz, trip-hop, electronica and pop and ties them together seamlessly in songs that are both triumphant and vulnerable."